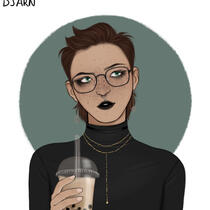 freydís moon
fray-DEES THEY/THEM
Direct Contact:
[email protected]
Agent: Bethany Weaver
Weaver Literary
Marketing & Publicity:
[email protected]
---
bio:
Freydís is bestselling, award-winning author with an affinity for quirky, speculative storytelling. A lover of culture, mysticism, history, and language, they constantly find themself lost in a book, trying their hand at a new recipe, or planning a trip to a faraway place.
commercial portrait headshot by
Yela @popcorncheek
Freydís is currently closed to blurb requests for short story collections, novellas, novelettes, and novels. Please query through email. They read Gothic, Romance, Erotica, and Horror.
Indie Booksellers: Freydís offers wholesale prices (upwards of 40% off) of their paperback books for brick and mortar bookstores. Please reach out via the contact listed at the top of this page. Shipping is included. Signed or unsigned.
---
Novels
With A Vengeance—Kindle Unlimited & Paperback (novel 60k: consensual explicit content, dubious consent, deadnaming, body horror, dysphoria, religious eroticism, psychosis, depressive episodes, suicide ideation, racism, police brutality)
Queer Indie Award Winner
Best Erotica 2022
Novelettes / Novellas
Exodus 20:3—eBook & Paperback (novelette 18.7k: explicit sexual content, off-page transphobia, mention of dug use, off-page police brutality)
Indie Ink Award Winner
Best Latine Representation '22
Best LGBTQ+ Representation '22
Most Optimistic Book of '22
Three Kings—eBook & Paperback (novelette 40k: explicit sexual content, off-page transphobia, sex pollen, themes surrounding infertility, early-stage pregnancy)
---
Heart, Haunt, Havoc—Kindle Unlimited, eBook, Audiobook Paperback (novella 35k: sexual content, murder, gore, themes surrounding racism, military industrial complex, body horror)
Selected as a New York Times best romance book of 2023
Four Thrilling New Tomance Novels: The New York Times
Wolf, Willow, Witch—Kindle Unlimited, eBook, Paperback (novella 38k: sexual content, murder, gore, animal mutilation, drowning, body horror)
Saint, Sorrow, Sinner—Kindle Unlimited, eBook, Paperback
Short Fiction
Poetry
---