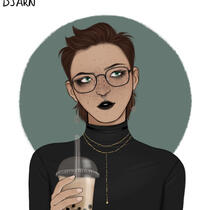 freydís moon
fray-DEES THEY/THEM
---
bio:
Freydís is a biracial diviner and creator with an affinity for quirky, speculative storytelling. A lover of culture, mysticism, history, and language, they constantly find themself lost in a book, trying their hand at a new recipe, or planning a trip to a faraway place.
commercial portrait headshot by
Yela @popcorncheek
Freydís is currently open to blurb requests for short story collections, novellas, novelettes, and novels. Please query through email or Twitter DM. They read Gothic, Romance, Erotica, and Horror.
---
Novelette / Novella
Exodus 20:3—NineStar Press (novelette 18.7k: explicit sexual content, off-page transphobia, mention of dug use, off-page police brutality)
Three Kings—NineStar Press (novelette 40k: explicit sexual content, off-page transphobia, sex pollen, themes surrounding infertility)
Short Fiction
Poetry
---